The first regional tournament of the Northwest region took place last weekend in Sunnyside, WA at the beautiful Black Rock Creek golf course. Scott Galbraith, the Head Professional, and his staff were very welcoming to our small field. It was the perfect start to the fall season, and set the stage for an exciting regional battle.
Ambitions were high leading up to the club golf tournament, with the University of Idaho and Central Washington University club golf teams coming in with hopes of revenge against the Northwest's defending regional champion, the ducks of the University of Oregon.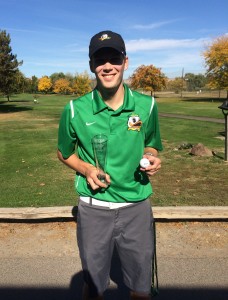 Those hopes were quickly squashed as Oregon came out of the gates, guns ablaze behind their stroke leader Kevin Mackin. The Oregon VPopened with a 71.  With the leaders paired together for the final round, Oregon only increased their lead, winning with a team total of 740.
When asked of his team's performance, Oregon Club President Ryan Parks says, "We just wanted to back up last season's performance.  We played well, and hope to do the same in two weeks in Woodburn."
The medalist, Kevin Mackin, also from the University of Oregon, commented on his and his team's play.  "I am happy with the result I got out there, but happier with the play of my ducks.  It was a great team win."
The Northwest region will resume in two weeks at the OGA Golf Course in Woodburn, Oregon.  It will be a heated battle for club golf!
**Baylor Comstock of the University of Idaho is the NCCGA Northwest Regional Coordinator. Follow him on twitter @NCCGANorthwest