With only three weeks until the NCCGA Spring National Championship in Bryan Park, NC, we had several tournaments this past weekend. A couple teams have secured spots for the national championship and others started their seasons off well. Take a look at how the teams and players faired this past Easter weekend.
Northwest Regional 1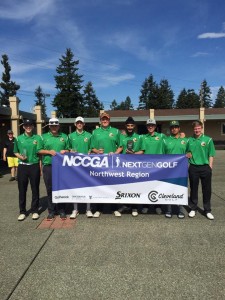 Oregon prevailed out of the Northwest Region led by first place Charles Sitton V and second place Daniel Chalmers who posted scores of 155 and 156 respectively. Jacob Erickson of Eastern Washington finished third with a 159. The Northwest's second regional will be fun to watch. Several teams could not fill an entire roster, so anyone can still win the second tournament. Oregon and Eastern Washington are in great position, but look for Central Washington and Idaho to make moves next weekend.
Metro Regional 1
Lafayette University was able to outplay Rutgers A team 842 to 857 in a 15 stroke victory as a team. The Rutgers B team finished third with a two-day total of 922, and Montclair State in fourth with a 926.
One story from this tournament was the individual play from Brendan Davis of Seton Hall University. Although Seton Hall did not have an entire team playing, Davis still competed as an individual. He was able to post an +8 over 152 to put him in a playoff with Evan Kenagy from Lafayette. Kenagy prevailed in the playoff. Ben Lerner from Rutgers finished 3rd with a 165.
Great Lakes Regional 1
The Great Lakes tournament was one for the books. Here is what Regional Coordinator Mason Wicks had to say, "This was one of the best NCCGA tournaments I have been a part of in my two years. I hope more teams get to enjoy what the Weibring Golf Club in the future and all it had to offer."
Illinois State A team won with a 789, and their B team was runner up with a 847.  Eric Hogenkamp (ISU) beat out Taylor Graf (ISU) in a two hole playoff to win as an individual (Each shot 155 for the tournament). Third place was Judson Bro of Bradley with a 156. This region is moving in the right direction after many changes this offseason.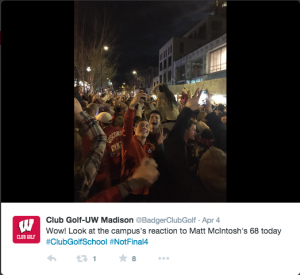 North Regional 1
Madison, Wisconsin may be upset with the results of the 2015 Men's Basketball NationalChampionship game, but their club golf team has given them something to cheer about. For the third straight year Wisconsin has owned the North Region. This time it was a 50 stroke victory of their own B team. Wisconsin-Oshkosh finished third, 6 shots behind.
Madison was led by medalist Matt McIntosh who fired a tournament-low 68 on Saturday. As you can see from the tweet, he had fans all over Wisconsin celebrating his team's victory. Michael Lueptow of Wisco-Oshkosh finished 4 strokes behind McIntosh with a 75-72 147
Southeast Regional 2
The Southeast Region wrapped up Regional play this past weekend. They will be represented at Nationals by at least two great teams and players. Clemson and Georgia finished 1st and 2nd respectively in both regionals. Because Clemson is defending their national championship, they receive an automatic bid back to the #Battle4Bryan. Georgia, in turn, receives the region's automatic qualifier, allowing them to compete for a National Championship as well.
The course was only setup to 6100 yards, but as Regional Coordinator Ethan Lambert said "6100 yards can still eat your lunch." Clemson was led by Matt Barth who won medalist with a 143. Also finishing in the top 5 are Hunter Oxford (USC), Matt Youmans (Georgia), Ryan Reynolds (GAA-Myrtle), and Johnny Garstka (Clemson). Expect the Southeast to be well represented at Nationals in a few weeks.
Pacific Regional 2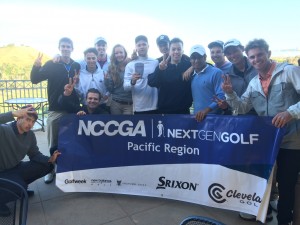 Stanford made another statement this weekend in the "Big Match" as they defeated University of Cal Berkeley by 35 shots. This is Stanford's second win of the season. Although they won their region, they have not received an automatic bid to Nationals because there were not 4 competing teams in the regional. Stanford does have a chance to qualify through a wildcard spot thanks to their strong performances at both regionals.
Four of the top Five individuals from this region were from Stanford: 1. Chris House 3. Sebastian Cardenas 4. Pavin Chayavivatkul 5. Armando Herrera. Second Place finisher, Tim Krauter, represents Cal and finished 2 strokes behind House with a 156. Great season to both Stanford and Cal Berkeley!
Masters Week in the Shadows of NCCGA Regional Play
For the first time in the history of golf, Masters Week is the second most important event this weekend. That's right, we have now reached the last weekend of Regional play throughout the NCCGA. Over 20 regions will be hitting the links this week to fight for their chance to play in the #Battle4Bryan. This weekend will determine the fate of hundreds of collegiate golfers as they compete for regional titles. Buckle up and enjoy the ride!
** Jack Stephens is the Director of Communications. Follow him on twitter @NCCGABlog