Written By: Travis Richardson | @travis_richson
Zac Lewis qualified for the Spring 2016 NCCGA National Championship as an individual, representing NC State and their club golf team. Lewis is the President of the club, and a longtime member of the NCCGA. This was his last semester as a college student, and therefore his last opportunity to play club golf.
He took advantage of the opportunity.
Lewis fired a NCCGA National Championship record 66 in Round 2 at Glade Springs, en route to a 2-under tournament performance. He won medalist honors over the 256 player field by 3-strokes.
Here's a look at his weekend: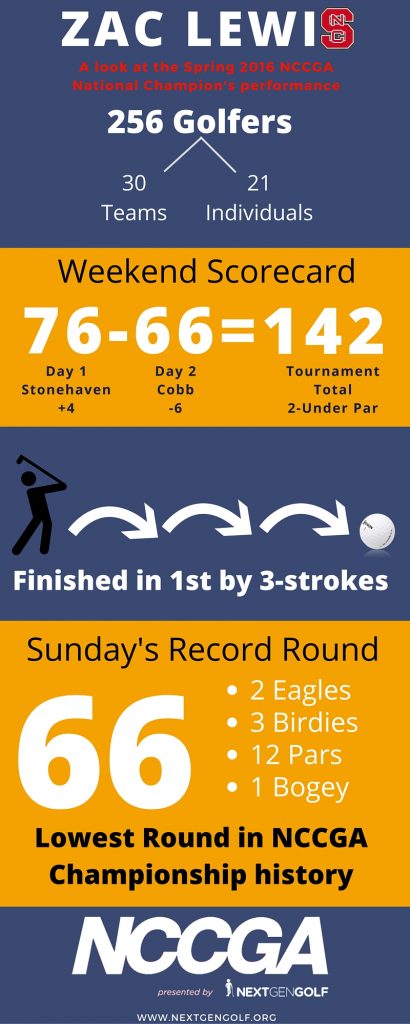 The victory was Lewis' second of the season. He also earned medalist honors at the first North Carolina regional tournament of the semester on April 2/3 at Skybrook Golf Club. He finished T-6 in the second regional tournament, and overall ranked 88th in the country.
Zac earned several awards for his victory. He will have the honor of donning the NCCGA's red jacket, as well as a custom ProQuip rain jacket, year's supply of Srixon golf balls, a custom Cleveland Golf wedge (with the National Championship logo stamped on), a pin flag from the tournament, and of course the National Champion glass mug.
Congrats to Zac on the victory. Here's some comments from the man himself after Sunday's round:

The Fall 2016 NCCGA National Championship will take place November 19/20 at an yet to be released location. With Lewis graduating, there will be a new champion in the coming season.