It is a priority of the NCCGA to make sure the National Championship has a diverse, but competitive playing field. There are some very dominant teams in the NCCGA who win their regions and secure bids to Nationals almost every year. Wild card bids allow a variety of teams to take a shot at the National Title. Two college golf teams who have fought through tough competition to secure wildcard bids are Penn State and Stanford. We contacted both club's Presidents to hear how they proved many wrong and earned a spot in the #Battle4Bryan.
Penn State's Return to Nationals
Four years ago Club president Greg Merrick found himself playing in the NCCGA National Championship in the Spring of 2012 as a freshman. At the time Merrick assumed this was the norm. Little did he know he and his team would be put in a region with powerhouse Delaware University and then moved into a region with Pittsburgh and not make another Nationals Appearance for 3 and a half years. Then, with one semester left of college golf, Merrick and his team are back where it all started, the National Championship.
Greg and I talked to learn more about his team and how they overcame the struggles of the last three years to accomplish their goals and qualify for nationals.
Q: Penn State has a dominant varsity team in a tough Big 10 Conference. What's it like having two college golf teams on campus with them and how does their presence affect the club team?
It can be really tough at times because varsity team has a very nice practice facility and many perks that we aren't allowed to use. That can be frustrating, but we have courses nearby we play and practice at when we can.
Q: What's it like playing in such a competitive region?
It's been a lot of fun. It's a dogfight every regional with Pitt, but we've become friends with players from those teams and the regional tournaments are always a blast. The level of competition is high which always makes for exciting tournaments.
Q: How have you changed your program to compete with those teams?
It has been a really long, tough, but rewarding process. We started up four years ago with no coach and no real organized approach. As sophomores me and a guy named Bryan Meredith kind of took the team over. I met Bryan through playing golf on the club and we've become best friends now. He's the VP and I'm the President and his hard work has really moved us in the right direction. We've been able to step up and compete with Pitt through hard-work in the offseason. This means lots of recruiting, fundraising to try to get better equipment and opportunities for our team, and growing in numbers. It was tough at first but at the last regional we won and beat Pittsburgh by 1 stroke. That win made everything worthwhile and helps us keep working hard for the club.
Q: You mentioned that the club started fairly small but is much bigger now. How big is your team and how do you determine the team?
Now our team is made up of about 20-30 players who have to qualify to play in the regionals. These players include friends from school, people just looking to play competitive golf, and even high school friends that we've recruited to come to Penn State to play club with us. This process was tough this semester because we had to have tryouts for the tournaments when their was still snow on the ground, so it was tough making executive decisions with such little practice time and bad conditions.
Q: Lastly, what are you most looking forward to about the National Championship?
Being a senior this is going to be the last event I play at, so for me it will just being there and competing in the NCCGA one more time. I'm extremely impressed with the growth of the NCCGA and I'm glad I was apart of the ride. My teammates are also excited to compete again on a big stage and having the opportunity to play out of state at a quality golf course is something not many college students get to do.
Greg and Bryan have worked extremely hard to get their team back to the National Championship. Congratulations to them and their team for fighting hard in a tough regional.
No Automatic Bid in the Pacific Region? No Problem for Stanford
After interviewing Stanford Club Golf's president Spencer Savitz, there is no doubt that Stanford isn't your typical club golf team. Read on to find out what make's Stanford's Club Golf Team so interesting.
Q: What's the history behind the Stanford Club Golf Team?
Natalya Thakur and Zach Stuart founded the club golf league at Stanford, which at that time was more of a social club. Spencer was looking for something a little more competitive, so he started the club golf team under the NCCGA. The two groups merged together to form what is now the Stanford University Club Golf Team. Spencer says that it was tough to transition from a social to a competitive club, but he was able to find some golfers who enjoy traveling and competing.
Q: How has the Pacific region grown and where do you think it will be in the next few years?
The Pacific Region of the NCCGA started in Fall of 2014 and at that time, the only two teams were Stanford and Berkeley. Now in the Spring of 2015, there are about 3-4 teams competing in the region. Despite this, Stanford still had to receive a wild card spot rather than an automatic bid to make it to #Battle4Bryan.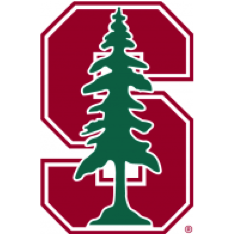 Q: How much harder do you think it is to win a wild card spot rather than just an automatic bid? 
It would be nice if the Pacific region had an automatic bid to Nationals, but the Pacific region is competitive enough to where the first place team will most likely receive a wild card bid to Nationals. **Spencer went a little deeper into this stating that a wild card bid is based on handicap differential so it is a little stressful knowing that you are competing against teams across the nation. This is partly because the course ratings and slopes don't take into account other factors of the tournament such as weather, course conditions, etc.
Q: Overcoming the challenge to secure a wild card spot, do you think you have an advantage going into Nationals? 
Securing a wild card spot gives the Stanford team confidence as they are going into Nationals as the top team in the Pacific Region and one of the top teams in nation. The entire Stanford team agrees that they did not play that great in the regional tournaments, so they are looking forward to making up for that at Nationals.
Q: Are there any golfers on Stanford's team that stand out?
Chris House is a boss. He played for Navy's golf team in his undergrad and now he is a grad student at Stanford studying electrical engineering, Spencer stated that Chris has really helped us out this spring, as he didn't know about club golf team in the fall. Chris has been the only golfer on the team that that has been playing up to his expectations. Chris and the team are very excited to go to nationals and show the country what they are capable of.
Q: How has it been preparing for Nationals?
One thing that is difficult for us is that Nationals is across the country. Stanford's Club Golf Team actually bought their plane tickets weeks before the found out they received a bid to Nationals because otherwise they would have been way too expensive. Spencer says that the team would not have been able to pay and go to nationals if they didn't buy the tickets beforehand. Also, it was hard to find golfers that were committed to buying tickets before national and traveling across the country. Stanford is thankful that they are bringing a team of 5 to #Battle4Bryan, however they wish there were taking 8.
Q: How does it feel to play #ClubGolf at the same school Tiger Woods went to?
We have a lot of respect for our varsity team, especially because Tiger Woods was on the team. The club golf team plays on the  same course that Tiger Woods played on back in the day. Also, the course offers great rates for students, which helps us out a lot.
Q: I've heard a little bit about some traditions Stanford has for their sport teams, can you tell me more about that?
One special tradition we have at Stanford is something we call "Rollout," which occurs when somebody has been accepted into any sport or club sport. The person gets woken by the team at 5am (banging on their door) to congratulate them on making the team. The rest of the morning follows with fun and exciting team bonding activities such as grabbing breakfast and playing games. 
These two college golf teams along with the other Wildcard recipients have already overcome adversity in qualifying for this tournament. Let's see if they can turn a bid into a Cinderella Story this weekend at Bryan Park.