This weekend the NCCGA will be experiencing its own March Madness as 14 more Regions begin their Spring seasons. There will be over 80 schools represented on the golf course this weekend with hundreds of individuals playing. This is what club golf is all about.
Here's a look at the weekend broken down region-by-region:
Atlantic
Competing Teams: Penn State, University of Pittsburgh, Robert Morris University, West Virginia University, and University of Akron
Course: Quicksilver Golf Club in Midway, PA
While Pitt is definitely the favorite, and for good reason, the battle between them and Penn State should be a hard-fought one. West Virginia, Robert Morris, and Akron are all ready to start their club golf seasons and surprise the Atlantic Region with a refined skill after hard work this offseason.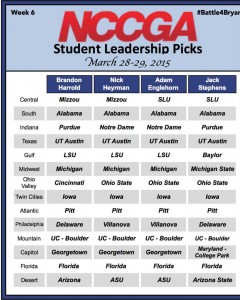 Capitol
Competing Teams: Catholic University, Georgetown, Salisbury, Towson, University of Maryland, George Washington University, John Hopkins
Course: Swan Point Yacht and Country Club in Issue, MD
The budding Capitol region is expecting a competitive tournament. Although incumbent champion Maryland returns ready to defend their title, Georgetown is on the rise and looking to unseat them. There are also very talented individuals looking to showcase their skills at the beautiful Swan Point Yacht and Country Club in Issue, MD.
Central
Competing Teams:  University of Missouri, Truman State, Southeast Missouri State, Washington University, Saint Louis University, Wichita State, U of Missouri-KC, Kansas University
Course: Missouri Bluffs Golf Club in St. Charles, MO
Following a National Championship run last year, Mizzou has earned an automatic qualifier for Bryan Park.  That means a second team will also be earning a bid to represent the Central Region. There will be a dog fight between SLU, SEMO, Truman State, and Wash U (making their NCCGA debut) to see who can earn points in hope of a bid to Nationals. Drama and excitement are in the air as this weekend is being decided at world renowned Missouri Bluffs Golf Course designed by Tom Fazio.
Desert
Competing Teams: Arizona State, Golf Academy of America-Chandler, New Mexico
Course: Oak Creek Country Club in Sedona, AZ
The Desert Region is still a young region with only five teams, but that number is expected to grow. This weekend's regional is being played at Oakcreek CC. According to Regional Coordinator Andrew Slonski, Oakcreek is in fantastic shape and low scores should be posted this weekend. ASU was nationally ranked #23 in the NCCGA  Club Golf Preseason Rankings and are favorites this weekend. Let's see if GAA-Chandler or New Mexico can pull of an upset.
Florida
Competing Teams: University of Central Florida, Florida, Florida State University, Keiser University, Golf Academy of America - Orlando, Florida Atlantic, Florida Gulf Coast, Florida Institute
Course: Spring Lake Golf Resort in Sebring, FL  *Note: the Panther Creek Course boasts a 760-yard Par 6
Regional Coordinator Bill Morrison is very familiar with this region as he has been involved with the NCCGA since its founding. Morrison said: "We are looking forward to two great tournaments this spring. The Florida region has come a long way since our first event two years ago which featured only UCF, FSU and Keiser. We have some great rivalries developing as teams are eager to dethrone the Gators this spring. I expect that whichever team comes out on top, they will be a force to be reckoned with at nationals."
Indiana
Competing Teams: Purdue, Indiana University-Bloomington, Ball State, Notre Dame
Course: The Legends Golf Club in Franklin, IN
The newly formed Indiana Region will host its first Regional Tournament this weekend at The Legends Golf Club in Franklin, Indiana. Purdue, defending champ from the Great Lakes region, looks to continue their dominance in a new region. Notre Dame, however, is a strong challenger. The two teams are ranked #19 and #20, respectively, in the club golf preseason rankings.
Midwest
Competing Teams: Central Michigan, University of Michigan-Flint, Western Michigan, Michigan State, Ferris State, Michigan, Eastern Michigan
Course:  Fox Hills Golf & Banquet Center in Plymouth, MI
"In past years, Michigan and Michigan State have battled for the top position to head to nationals, but with growing club teams in our region that story may be different this year. Although Fox Hills is not a very long course, it forces players to be accurate off the tee with tight fairways. The weather this weekend for the tournament is a high of 40 with slush/rain. The team that can hold it together both days and fight through the cold weather will come out with a victory," Payden Myers, Midwest Regional Coordinator
Mountain
Competing Teams: University of Colorado Boulder, University of Northern Colorado
Course: Highland Hills Golf Club in Westminister, CO

"Although the Mountain Region is small, it is full of young excited individuals who want to make the region more known and competitive," said Regional Coordinator Grant Vanek. Colorado Boulder is the defending champion of this region, but this year the Regional title could go either way. Northern Colorado boasts young talent, while Boulder has the experience of winning. This will be a fun weekend in Colorado.
Ohio Valley
Competing Teams: Ohio State, University of Dayton, University of Cincinnati, Ohio University, University of Kentucky, Xavier
Course: Aston Oaks Golf Club in Cincinnati, OH
The Ohio Valley Region is arguably the most talented region in all of the NCCGA. Josh Rinear explains what to expect this weekend: "Even as a relatively new Region, the Ohio Valley placed 4 teams (Ohio State, Cincinnati, Miami, and Dayton) in the NCCGA's Preseason Top-25 Rankings. Although 1st place has been primarily owned by Ohio State, Cincinnati is coming off a strong, 2nd place finish in the Fall 2014 Nationals and the Bearcats are looking to give the Buckeyes another run for their title. I'm very excited to begin another highly competitive tournament, and it should be fun to see who comes out on top."
Philadelphia
Competing Teams: Rowan University, University of Delaware, Villanova University, Saint Joseph's University, Haverford College
Course: Valleybrook Golf Course in Blackwood, NJ
The Philly Region is in its second season with the NCCGA after splitting from the Metro Region last Fall. Last year Villanova won the region with Delaware very close behind. However, there will be lots of good competition this weekend, even with the cold temperatures and tough conditions.
South
Competing Teams: Auburn, Commodore State, Emory, Georgia Institute of Technology, Kennesaw State, Tennessee Tech, University of Tennessee, University of Alabama
Individuals: Georgia Highlands College
Course: The Robert Trent Jones Golf Trail At Hampton Cove in Owens Cross Roads, AL
Last year, Alabama won the South Region and hope to do so again this season. They were ranked #21 in the preseason rankings. However, a repeat won't be easy. Tennessee Tech, Auburn, and Georgia Tech have traditionally been competitive. Emory, Georgia Highlands, and Kennesaw State have been around the South Region since its founding and are looking for their break-through season.
Texas
Competing Teams - Baylor, University of Texas at Austin, Southern Methodist University, Tarleton State University, Texas Christian University, Golf Academy of America-Dallas, Texas A&M.
Course: The Golf Club of Dallas in Dallas, TX  *Note: previous host of Byron Nelson Championship
History shows that Baylor is a top contender to win the region. However, UT Austin put on a strong showing last semester while Golf Academy of Dallas looks to continue a strong fall semester. This region is certainly up for grabs.
Twin Cities
Competing Teams: Iowa State, University of Iowa, University of Minnesota-Twin Cities
Course: Veenker Memorial Golf Course in Ames, IA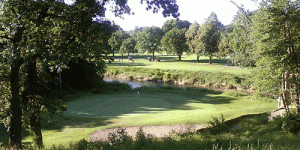 Last season, Iowa won both regional tournaments convincingly. However, this region has grown since then. Teams have been working hard this offseason to take Iowa's title as Regional Champs. Also note this course is Iowa State's home course, so we will see if home field advantage plays into the results.
This weekend will be crucial for many teams looking to win an automatic bid to the #Battle4Bryan. Don't forget to post pictures and events from all of your distinct regionals on Twitter, Instagram, and Facebook. Use the hashtag #ClubGolf to compete in our competition! Best of luck to everyone playing this weekend.
** Jack Stephens is the Director of Communications. Follow him on twitter @NCCGABlog