It's Friday the 13th and in one week the NCCGA National Championship will kick off down at TPC San Antonio in Texas. Although today is supposed to be unlucky, we thought we would show 13 reasons why teams heading into Texas will be lucky next week! If there are any reasons we missed, let us know on Twitter @NCCGA, or on Facebook. We'd love to learn what makes the experience great for you and your team.
1) The Courses – Both courses at TPC San Antonio are fantastic, and host PGA Tour and Champions Tour events. Perfect for an NCCGA National Championship.
2) The Teams – The quality of competition this semester is higher than it ever has been.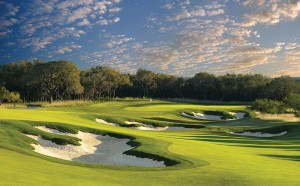 3) The Individuals – Did you know 19 individuals from around the country are coming to Nationals without their team? Sometimes it Is tough to get on a good team, but these golfers made it on their own merit. Watch out for a medalist here!
4) The Sponsors – Cleveland Golf and Srixon is the title sponsor for the Championship, but lookout for a lot of new names in the mix supporting the event. We have a lot of organizations that care about college club golf.
5) The Gifts – You ain't getting a dozen Mojos and leftover inventory from 2003 in this gift bag. Brand new Srixon Z-Star Golf Balls, and much more.
6) Friday Night – The kickoff party on Friday night will feature music, free food, numerous contests, and giveaways from some of the best brands in golf.
7) Giving Back – Have you been growing out your #GolfStache? The NCCGA is giving back to the Testicular Cancer Foundation and encourages your support too. Donations will be accepted on-site by a TCF representative.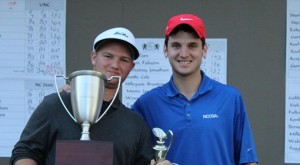 8) The Shuttle – It is kinda nice when someone drives you around.
9) The Hotel – The Holiday Inn will be a fun place to stay since the entire hotel is rented out by the NCCGA.
10) Contests – Want to win a Cleveland Wedge, GolfBuddy Rangefinder, New Balance Golf Shoes, and more? Make sure to check out the contests happening throughout the weekend for your chance to win.
11) The Memories – "Nationals is one of my favorite college experiences".
12) The Stories – Skratch TV will be on-site filming the Championship and the winning team will be featured in Global Golf Post on Monday following the Championship.
13) The Experience – For some students, this is their first time at Nationals, whereas for others this could be their 5th+ time participating.
**Kris Hart is the CEO of Nextgengolf, and is hoping his #GolfStache game has improved from last year. Contact him on Twitter @collegegolfguy.