Once you turn 18 or graduate high school and plan on continuing the sport of golf, you're at a dead end for intense competition unless you plan on going pro or are selected to play on a college varsity team (Editors Note: The NCCGA allows you to continue your golf career while in college through competitive non-varsity club golf). You're now too old for the national junior tours, and the charity outings your uncle asks you to play in don't offer enough competition. Thanks to my current University of Dayton teammate, I was informed of an up and coming community that targeted 18 to 34 year olds with a keen interest in the sport. Having no idea what I was getting in to, I signed up for the Nextgengolf City Tour event in Columbus at New Albany Golf Links.
My teammate and I walked to the clubhouse, greeted not only with a smile by the booth attendant, but free stuff. Who doesn't love free stuff, especially when it's a koozie and golf balls? We proceeded to check in and meet the other members of our team. The tournament format, perfect for golfers who haven't had competitive round experience, was familiar. We fixed our hair and photos were taken. Prior to teeing off, an announcer stated our names. Considering our opponents had never had this experience, they were ecstatic. Nextgengolf provided a real tournament experience for those who have never had it.
We fielded a team of 6 individuals, which was split into three groups of two. The best ball score was taken from each two-some, and the top two best ball scores is what made up the team's total. Although I had played in best ball rounds and scrambles before, this type of team setting was different. There was no pressure individually to play. Even if you 6 putt and finished with an 8 on a hole , there was an expected possibility your partner shot better and that would be the score you'd take. The format of the summer tournament was new and fun for my teammate and me.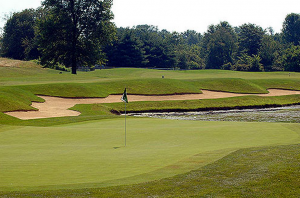 The atmosphere the entire round was laid back. There weren't "dance mom" golf parents breathing down your opponent's back or reading greens, and when a ball was occasionally hit in the woods, a humorous "well there goes 5 dollars" was uttered. The relaxed round provided an opportunity to not only play casual summer golf and have a fun time, but allowed my teammate and me to build a relationship with our opponents.
Within the 4 hour time span, the temperatures dropped at least 10 degrees, storm clouds appeared and large rain drops pelted our bodies. The rain didn't prevent our play and conversing; in fact, it allowed my teammate, our opponents and me to bond over our under water and plugged lies. I figured out how old the players were, their favorite color, each of their family members' names, their current work place, their best round of golf and favorite course they have played. The wide variety of ages and experiences was something I had never been able to experience in a normal high school or collegiate match.
How to start playing summer golf
Instead of an intense round of competitive golf, it was 18 holes of leisure, conversation and laughter, a little bit of rain and learning the greens of the challenging course. You can be sure to see me at future events. The Nextgengolf City Tour opened up a whole new realm of summer golf, especially for the collegiate player that I am.
**Emma Meyer is a rising sophomore at the University of Dayton.