I don't know if you were like me growing up, but I always had to have my New Balance gym shoes. Whenever a new school year came around and it was time to get new shoes, New Balance was always my choice. It seemed like everyone was getting them! They were comfortable, stylish, and popular, why wouldn't you get them!
Playing golf I always played with golf spikes, but my buddy used to play golf in his New Balance gym shoes. He never found a pair of golf shoes that fit him the way those New Balance shoes did. So when I was walked into a store earlier this year and saw New Balance had come out with its line of golf shoes I knew it was only a matter of time before I would have to grab a pair!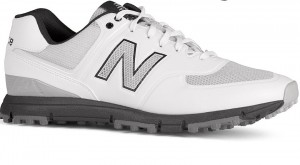 New Balance Golf just recently paired with Nextgengolf as a supporting sponsor! Why is this great for you? As a member you can receive exclusive offers on New Balance golf shoes! I received my shoes about a month ago and have nothing but great things to say about them. They are light, stylish, and comfortable. If you have questions or want to learn more about ordering New Balance products, contact Matt Weinberger at matt@nextgengolf.org.
**Sean Keating is the Nextgengolf City Tour President. Reach him via e-mail citytour@nextgengolf.org.