We made it! The final Sunday of the Nextgengolf City Tour has come and gone with seven (7!) tournaments taking place and a number of National Championship bids up for grabs. Let's run through the results.
NYC - Tallgrass At Shoreham
The team of Never Lay Up was in high gear as the pair of Greg Stavrou & Matt Smith combined for medalist pair, shooting a dangerously low 62 (-9). The team ended up shooting 136 (-6) and punching their ticket to the National Championship at Cog Hill. Putting up a good fight were Golf Match App (144, +2), Bush Is Back (151; +9), Team Big Booty (157; +15), and Rocketballzier (157; +15).
Boston - Shining Rock GC
A nice day for golf in New England saw 40 people tee it up at Shining Rock. It was a highly competitive tournament at the top of the leaderboard with the Birdie Bandits 149 (+5) edging out the National Championship-bound Northeastern Huskies (150; +6), and Big Swinging Mickeys (151; +7).
D.C. - Reston National GC
There was a lot of fun and excitement in D.C. on Sunday. Leading the way and earning medalist pair honors was yours truly and Sean Evins. We ended up shooting 74 (+3) that was aided by the shot of the tournament (and maybe my lifetime). From 125 yards in the fairway I hit an easy PW at the flag, saw it take a bounce and thought it would be close. Upon further inspection (since you couldn't see the hole from the fairway) it was in the hole! My very first hole-out eagle from the fairway. Not too shabby after 17+ years playing this game. Anyway, Local Knowledge came in first with a 158 (+16) trailed by The Price Is Wrong 178 (+36).
Philly - Scotland Run Golf Club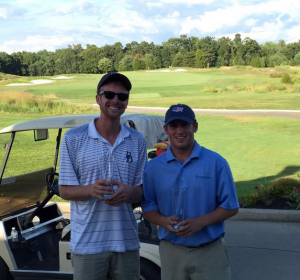 Another ticket was punched in Philly where the Delaware Club Golf Summer Squad has been staying loose in the offseason. Michael Pyne & Matt Hahn led the way shooting 68 (-3) good for medalist honors.
Columbus - Longaberger Golf Club
Ripping up the Columbus City Tour is the team of West Virginia, who ran away with another W this summer shooting 151 (+7) and earning an invite to the National Championship. Leading the team were dynamic duos of James Helgreen & Kurt Gieger (75; +3) and Keaton Lovas & Alex Farabaugh (76; +4).
Cincinnati - Shaker Run Golf Club
The National Championship is about to be flooded with Cincinnatians(?)..if that's even a thing. Regardless, the city is home to some of the best teams on the City Tour and a number of them were battling on Sunday. Shooter Magowan shot a tournament-best 139 (-5) to beat out the juggernauts of Slice and Dice (141; -3), and Cincy Skyline (145; +1). Taking home medalist pair honors were Simran Magowan & Ben O'Byran by shooting 68 (-4) beating out Nextgen's own Sean Keating and playing partner Patrick Krumme who shot 70 (-2). Congrats to all the teams from Cincy going to Cog Hill.
Houston - Wildcat Golf Club
The scores at Wildcat were just as sizzling as the weather where the top 2 teams were battling for bragging rights prior to squaring off at the National Championship. Hexion (138; -6) beat out Houston Caddy Club (141; -3). Co-Medalist honors went to the pairs consisting of Benton Arizpe & Karan Patel and Kevin Hamori & Davis Trosin. Both pairs shot an impressive 69 (-3).
Hope everyone had an awesome summer and we look forward to seeing a bunch of you at Cog Hill for the National Championship in September.
**Ethan Zimman is the Nextgen City Tour Director of Media and Campaigns. Reach him via email at NextgenWashDC@gmail.com.